Following updated government advice the cafe is now closed. The shop will open for limited times 10-12 on Monday Wednesday and Friday – please follow guidelines and respect the safety of our volunteers.
We have written to vulnerable customers to offer support with food and medication, let us know if you are self-isolating and need assistance.
We are grateful to local businesses for their donations and Cheshire Police Safer Communities Express Grant for funding which has enabled us to open Earlams shop 3 days each week to sell a range of groceries for local customers and to deliver hampers to the vulnerable members of our community. The hampers have a variety of groceries and treats and are a welcome visit for those unable to leave home. (Shielding and social distance rules applied)
We thank the volunteers  opening the shop and delivering hampers and hot food to those in our community who are shielding.
Ring the shop if you need any assistance.
Customers visiting the shop are asked to observe the distance signs and queue outside to keep volunteers and other customers safe,
We will update website as and when the situation changes, until then stay safe
Management Team met 16th March to consider business continuity plan and will update as situation progresses and in light of government advice
Click here for Workshop Programme CANCELLED UNTIL FURTHER NOTICE

AGM minutes- please scroll down this page for minutes of management team meetings during the year
AGM DECEMBER 2019 year ended 31/7/2019
Earlams, Styal Community Store receives the Queen's Award for Voluntary Service
Mr David Briggs MBE Lord Lieutenant of Cheshire presented the award to our volunteers, congratulations !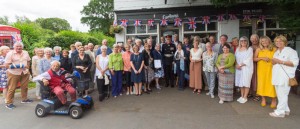 We have been honoured with the Queen's Award for Voluntary Service, the highest award a voluntary group can receive in the UK.
Earlams Store, Café and Art Gallery is an inclusive community enterprise that promotes and provides opportunities for creativity, learning, volunteering and a social focus for the village of Styal and surrounding area.
Earlams is one of 281 charities, social enterprises and voluntary groups to receive the prestigious award this year. The number of nominations and awards has increased year on year since the awards were introduced in 2002, showing that the voluntary sector is thriving and full of innovative ideas to make life better for those
The Queen's Award for Voluntary Service aims to recognise outstanding work by volunteer groups to benefit their local communities. It was created in 2002 to celebrate the Queen's Golden Jubilee. Winners are announced each year on 2 June – the anniversary of the Queen's Coronation. Award winners this year are wonderfully diverse. They include volunteers helping people overcome mental health problems through sport, volunteers using caravans as mobile cafe/information centres in geographically remote locations and another group mentoring children who have a parent in prison.
Earlam's Chair John Novak says:

"We are very proud of all we have created at Earlams and delighted that our work has been recognised in this way, it pays tribute to the hard work and commitment of our volunteers."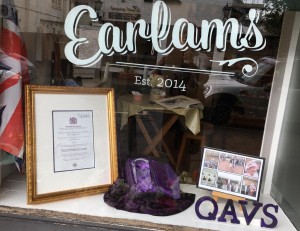 NOTICE FOR SHAREHOLDERS
The Annual General Meeting of Styal Village Community Store, Cafe and Gallery for year ending 31/07/19 will take place at 7pm on  MONDAY 16TH DECEMBER  2019 in the Cabin at Earlams.
We have emailed the AGM date to all share holders – please let us have your updated contact details if you have not received a notification email for  AGM
Management Team Meetings#
5Styal has had a village store since the 1800's and the new village store, café gallery which is a community run company and trades as EARLAMS was established by the villagers in 2014  to enhance Styal village life. It helps  to create a sense of community that benefits the village as a place to live, work and visit.