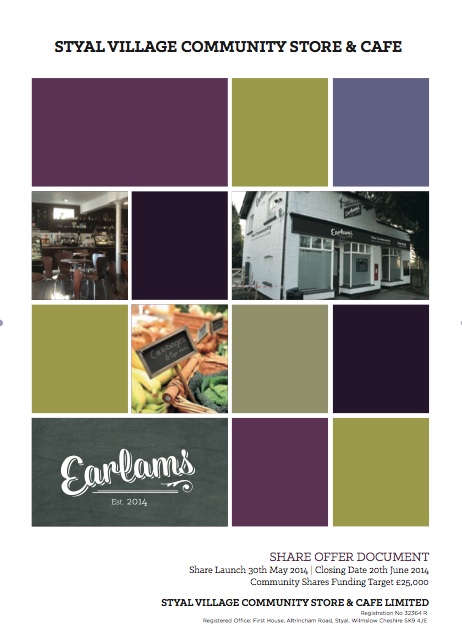 After months of preparation, today is a very important day for Earlams community venture, as a team of volunteers start to distribute the prospectus all Styal Village residents, to raise the essential funding. The share offer gives every member of the village the opportunity to purchase and own the village shop and cafe which is be run by the village for the village.
After developing the constitution in accordance with the Plunkett Foundation model and following approval by the Financial Conduct Authority the business  was formally incorporated as an industrial provident society for community benefit on 15th April.
Based on the pledges made in January, the aim is to raise the target of £25,000 from the community share offer and this to be supplemented with grants and donations to achieve the total funding requirement of £50,000.
The share offer closes on the 20th June an it is open to individuals and businesses, and not just residents of Styal. It is hoped that extended families and people who have links will Styal will invest and support this very worthwhile course, which whilst essential as a means of support for the elderly will benefit all residents and visitors to the village. By achieving its aim of improving Styal Village as place to live, work and visit.
This is  a very exciting and significant project for the village for which there is tremendous support and a large number of volunteer teams are now working on the different aspects of the project.
We look forward to receiving your vital support and welcoming you to the cafe, store  and arts and crafts gallery in the very near future.
The Management Committee
30th May 2014
Purchasing shares is relatively easy. You can either buy shares online through the secure platform www.microgenious.co.uk which is backed by the government or you can apply by completing the form below and returning this to the shop.
For more information on the share offer and to invest please consider the following documents: